CAN. AM. CH. VANDERBILT'S MOONLIGHT MAGIC, ROMC (Pedigree)
Multi BISS Am. Can. Ch. Echo's Just A Dreamer
x Can. Ch. Vanderbilt's Rock Anthem
Hips: OFA Good Eyes: ACVO Clear and up to date

Keisha arrived in February 2001 and then most of my spare time was wrapped up in house training, running to puppy and obedience classes, joining clubs and meeting new people. I loved it!!!
Keisha is known for her exceptional sidegait, wonderful temperament, and has proven herself as a great foundation bitch. To date, she has produced seven Canadian champions. One of these puppies is the incredible "JJ", Can. National BISS at 7 mos, 1st in 9-12 sweeps at the 2004 US National and finished her US championship in less than 10 shows. Other puppies who did well are Cheemo, who won several BOB and Group placements and Scarlet (Linrosa's Painted Lady T-Echo" owned by Jan Warner and Francois Akers), and finished her Canadian Championship with a Group 2nd. Saje earned several BOB placements and a Group 3rd. Portia finished her championship at the tender, yet gawky, age of 10 months. Fling finished in 2006 and the following year Diva earned her championship, shown solely by my father, Gerald Roulston.
May 2008: Keisha came out of retirement to attend the Samoyed Association Club Specialty held in Amherst, NS. Her daughter Splash won Reserve Winner's Bitch under respected judge Cheryl Egerton, and Keisha went all the way, winning Best of Opposite Sex, Best Veteran and Best Veteran in Sweepstakes!!

SHOW CAREER

**************************************************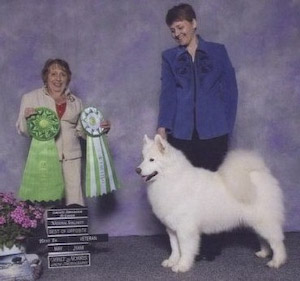 SCA 2008 Specialty
Wins BOS and Best Veteran!!!
Thank you judge, Cheryl Egerton
May 2008 - Samoyed Association of Canada Specialty held in Amherst, NS. Keisha wins Best of Opposite Sex, Best Veteran and Best Veteran in Sweepstakes!!!
Keisha finishes her American championship!!!
July 2004
Many thanks to Jan Warner and Francois Akers (Echo Samoyeds) for taking such great care of Keisha and showing her in the US.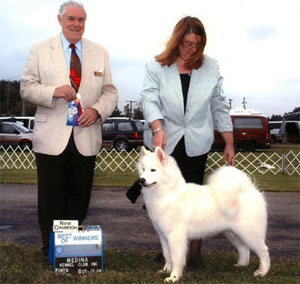 New US Champion !!
Thank you j. Peter Baynes
July 17, 2004 - At the Medina, OH show, Keisha earns another major (the hard way by going BOS over a Special), to finish her AM. CH. under j. Peter Baynes. Way to go Jan and Keisha!!!
July 10th +11th, 2004 - "Keisha" wins WB for another US point under j. Sheila DiNardo.
May 23th+24th, 2004 - "Keisha" wins a 4 point major under j. Helen Nietsch at Butler Co. K.C, New Castle PA.
May 15, 2004 Keisha wins WB/BW for 2+2 US points at the Ohio shows.
April 30, May 1st + 2nd, 2004 - Keisha earns her 1st US point under j. Col. Purhkish.
**************************************************
New Canadian Champion - July 2002
Keisha, at 7 months of age, was entered in her first conformation show "just for fun". It was my first show, so I was thrilled when Keisha earned her first two points. Keisha earned 6 more points by the end of the show season and the following summer she came out and easily finished her championship competing at shows in the Maritimes and Ontario, including going over Specials.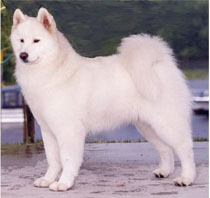 June 9 and 10th, 2002. Keisha takes 2 x WB for 4 points under Judges Mr. Guy Jeavons and Mr. Michael Woods to finish her championship. Oromocto KC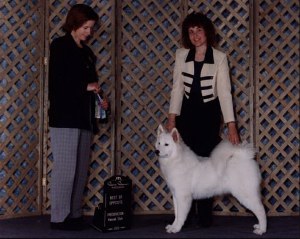 July, 2001 - Keisha wins WB for 2 pts at her very first show
under Judge Honey Glendinning. Fredericton KC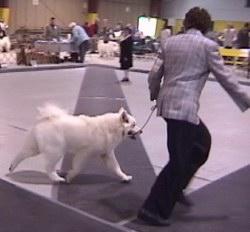 Keisha - 17 months of age
Samoyed Club of Ontario Specialty
Aurora, May 2002
(Elford Photo)

KEISHA AS A PUPPY

******************************************************************
Pedigree for Vanderbilt's Moonlight Magic
+--- Am. Ch. Risuko's Big Guy O'Whitecliff
+--- BISS BIS Am. Ch. Risuko's Mister Moonlight(WF264427)
| +--- Am. Ch. Risuko's Shady Lady
+--- Am. Ch. Sanorka's Moonlight Gambler(WG107479)
| | +--- BIS Am. Ch. Northwind's Running Bear
| +--- Am. Ch. Sanorka's Maiden Northwind
| +--- Am. Ch. Northwind's Black Magic
+--- Am. Ch. South'n Mist Headin' For A Heartbreak
| | +--- Am. Ch. Vellee's Joli Sparkle of Life
| | +--- Am. Ch. Christori's Splendid Sparkler
| | | +--- Am. Ch. Christori's Silva Sequel(WE326629)
| +--- White Magic's Margarita Mandy
| | +--- Am. Ch. White Satin's Kodiak Kub(WE367089)
| +--- Am. Ch. Casablanca's Dash of Panache(WF605834)
| +--- Am. Ch. Deyomas' Crystal O'Casablanca
+--- Multi BISS Can. Am. Ch. Echo's Just A Dreamer
| | +--- Am. Ch. Sassillies Merlyn of Vicrian(WC934566)
| | +--- Am. Ch. Wolf River's Drumlin(1045122/WE612779)
| | | +--- Wintercrest's River Wolf II Am. CD(WC185415)
| | +--- Am. Ch. Saratoga's Speed of Sound(WG531015)
| | | | +--- Abakan San-We-Tlah II(WF116643)
| | | +--- Am. Ch. Elmfield's Saratoga Sage(WF667457)
| | | +--- Elmfield's Autumn Delight
| +--- Am. Ch. Artic Mist's Golden Sunrise
| | +--- BIS BISS Am. Ch. Ice Way's Ice Breaker
| | +--- Am. Ch. Trailblazer's Circuit Breaker
| | +--- Am. Ch. Trailblazer's Charisma(WE317030)
| +--- Am. Ch. Elmfield's Artic Mist
| | +--- Am. Ch. Valadimir of Elmfield
| +--- Elmfield's Autumn Delight
| +--- Am. Ch. Wolf River's Spark O'Elmfield (USA)(WE812052)
Can. Am. Ch. Vanderbilt's Moonlight Magic, ROMC "Keisha"
| +--- Am. Ch. Wolf River's Star(WD247802)
| +--- Am. Ch. Wolf River's Falcon(WF945061)
| | +--- Am. Ch. Seamist's Raven of Wolf River(WF483511)
| +--- Am.Can.Ch. Vanderbilt's Secretariat TT,CGC,TDI, Multi BIS(VN723526)
| | +--- Can. Ch. Shebaska's Gem Print(PC286285)
| | +--- Can. Ch. Shebaska's Vanderbilt Kipmetna(SN525084)
| | +--- Can. Ch. Shebaska's Toja At Samsu CD(NA219497)
| +--- Can. Ch. Vanderbilt's Krash Of Thunder CD MADC(CL181202)
| | | +--- Am. Ch. Wolf River's Star(WD247802)
| | | +--- Am. Ch. Wolf River's Falcon(1045121/WF945061)
| | | | +--- Am. Ch. Seamist's Raven of Wolf River(WF483511)
| | +--- Can. Ch. Wolf River's High as a Kite,ROM(10431292/WP352803)
| | | +--- Am. Ch. Wolf River's Star(WD247802)
| | +--- BIS Am. Ch. Wolf River's Terra(WF438967)
| | +--- Am. Ch. Wolf River's Prairie (USA)
+--- Can. Ch. Vanderbilt's Rock Anthem(GL440577)
| +--- Am. Ch. Tsiulikagta's Aput
| +--- Am. Ch. Sparrow Hill's Taakowah
| | +--- Nordic's Kaashi O'Sparrow Hill
| +--- Am. Ch. Wolf River's Siberian Taiga(WF746897)
| | | +--- Am. Ch. Sassillies Merlyn of Vicrian(WC934566)
| | +--- Am. Ch. Wolf River's Ruffian CD
| | +--- Wintercrest's River Wolf II Am. CD(WC185415)
+--- Can. Ch. Wolf River's Vanderbilt Mesa,ROM(1055361)
| +--- Am. Ch. Sassillies Merlyn of Vicrian(WC934566)
| +--- Am. Ch. Wolf River's Drumlin(1045122/WE612779)
| | +--- Wintercrest's River Wolf II Am. CD(WC185415)
+--- Am. Ch. Wolf River's Fata Morgana(WP344212/01)
| +--- Am. Ch. Sassillies Merlyn of Vicrian(WC934566)
+--- Am. Ch. Seamist's Raven of Wolf River(WF483511)
+--- Am. Ch. Seamist's Lavender and Lace(WE664536)