DUSHANBE'S LINROSA DREAM ON, RN
BIS GCHEx & CFC CH DUSHANBE'S DREAMBOAT, CGN RAE2 RM CD x
CH SNOWSHOE'S LET'S RIDE, RN TT

Zoomie's parents are the multi-talented Crush, BIS GCHEx & CFC CH DUSHANBE'S DREAMBOAT, CGN RAE3 RM CD NDD and the lovely Harleigh, CH SNOWSHOE'S LET'S RIDE, RN TT
Introducing Zoomie, a beautiful, fun-loving girl that stole my heart from a very young age. Being one of Crush's admirers for many years, I was excited to hear he had sired a litter. I was looking for a puppy that would work well in rally and obedience rings and asked for Linda Johnson's (Dushanbe Samoyed) assistance. After meeting Zoomie as a young puppy, I quickly did some clicker training exercises and tests with her to see how she responded. Linda and I both agreed Zoomie was a great match for me.
I struggled finding a name that suited her and ended up calling her "Zoomie". She does not stop until she has managed to get my attention. Once she has it she is ready to try and learn whatever I ask of her as long as I make it fun. I swear she can tell time :-) She paws at me to remind me it is time to train. She is certainly an attention seeker!
Zoomie and I participated in some rally and obedience training classes and, with Linda's encouragement, entered three rally trials where Zoomie quickly earned her Rally Novice (RN) title. Zoomie literally prances beside me in beautiful heeling position. More than one trainer has commented on her eagerness to please me and is as "cute as a button" doing so.
Special thanks to Linda Johnson of Dushanbe Samoyeds for letting Zoomie come to Linrosa's. She sure does put a smile on my face!
******************************************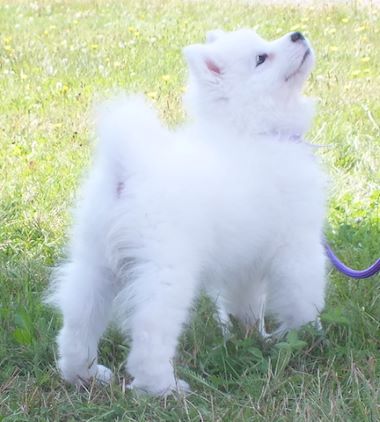 Zoomie giving me "the look" and being "sassy".
This was the moment I knew she was going home with me.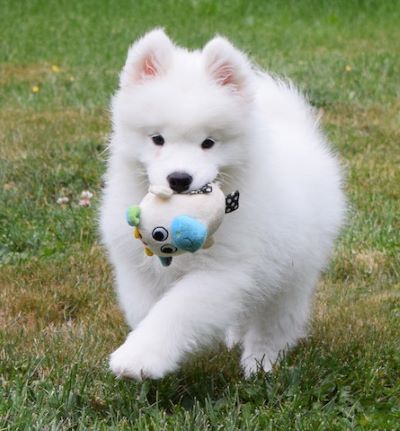 Zoomie 10 weeks old.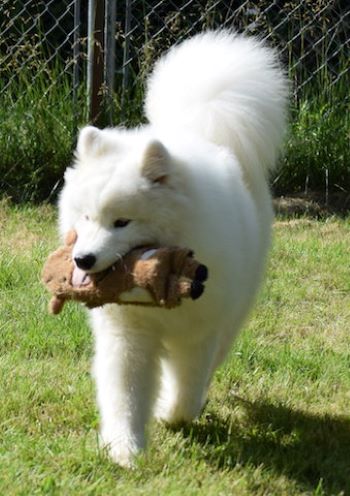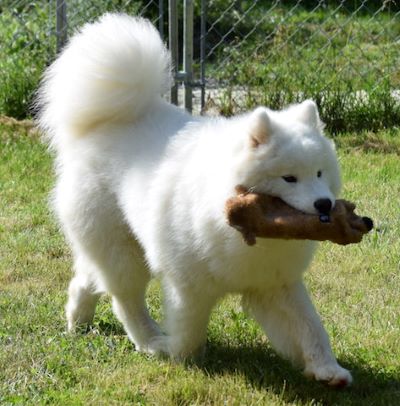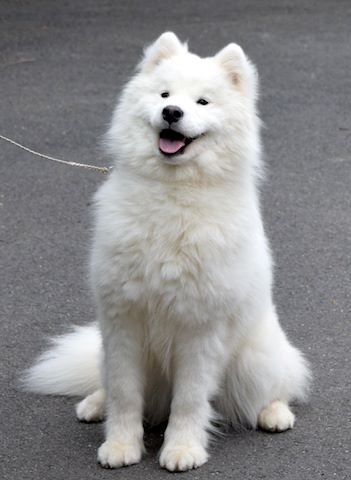 Zoomie practicing her "sit stay" exercise and still giving me "the look"