CH. LINROSA'S MOONLIGHT FLING (pedigree below)
Can. Am. Ch. Vanderbilt's True Lee, ROMC
x Can. Am. Ch. Vanderbilt's Moonlight Magic, ROMC

Fling, a smart girl who possesses an amazingly sweet and cuddly personality, has been a great companion from the get-go. She was very easy to train due to her inquisitive and "aim to please" personality and in no time she was ready for the show ring. I was eager to show off her sound movement, beautiful biscuit markings, and entered her in her first show at 6 months of age. During her show career several judges commented on her lovely, unique biscuit markings, balanced/ sound movement, and to my delight, consistently rewarded her by "putting her up". Even though she was out of coat, Fling completed her championship in July 2006. Fling was shown exclusively from the bred by class.

Fling now lives with Ann Daigle, Ken, Tammy and Kayla. As you can see from the picture below, Kayla and Fling are best buddies.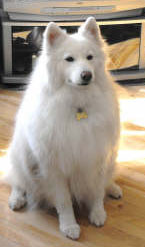 March 2009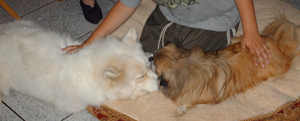 June 2007
Fling and Kayla cuddling

July 2006
(photos by Carol Randall - Claws 'n Paws)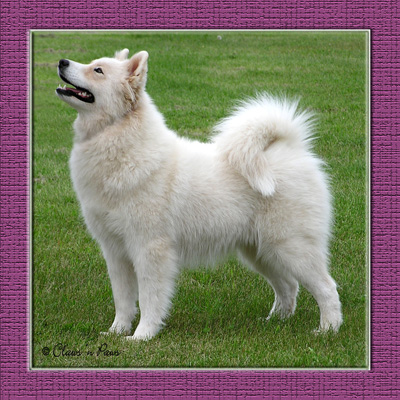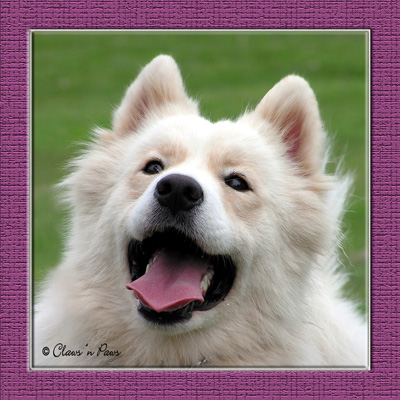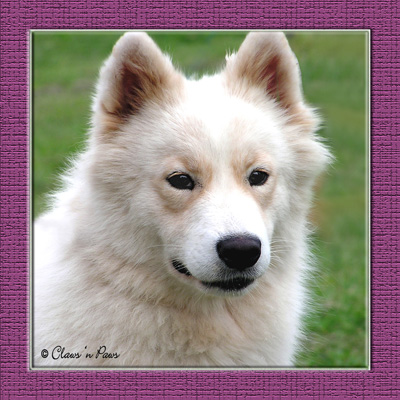 ******************************************
SHOW CAREER
July 28/29/30, 2006 - At the Fredericton Kennel Club, NB Shows Fling finished her championship with a BW for 2 pts under J. David McIntyre.
June 10/11, 2006 - Fling wins WB for 1 point under judge Lawrence E. Stanbridge. Oromocto, NB shows
August 20-22, 2005 - Fling earns 4 more points, taking BW on Saturday (j. R. William Tailor) and WB x 2 on Sunday & Monday (j. Joseph E Gregory and j. Phyllis Wolfish) at the New Brunswick Kennel Club shows.
July 29-31, 2005 - Fling debuts at 6 months of age and easily wins WB x 3 to earn 3 points at the Fredericton Kennel Club shows under judges Cecilia Ringstrom, Jim Brecknell, and F.M. (Butch) MacDonald.
******************************
Pictured at 7-8 weeks of age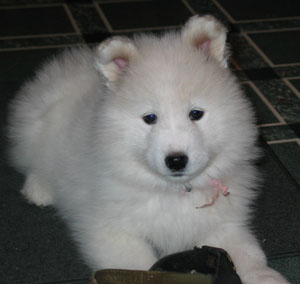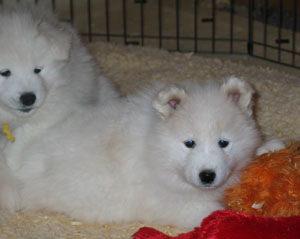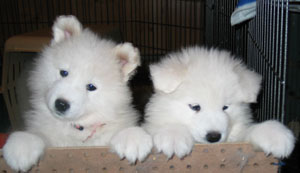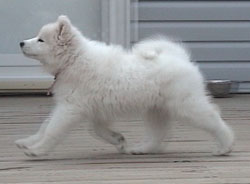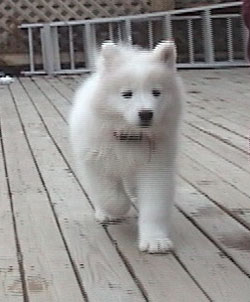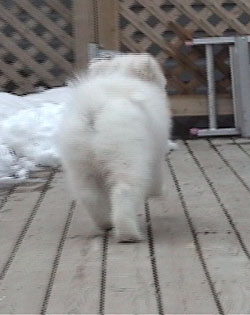 *************************************************************
Pedigree for Ch. Linrosa's Moonlight Fling
+--- Am. Ch. Kiska's Karaholme Cherokee
+--- BIS BISS Am. Ch. Ice Way's Ice Breaker
| +--- BISS Am. Ch. Ice Way's Ice Cube
+--- Can. Ch. Polar Mist Break the Bank (USA)
| | +--- BIS BISS Am. Ch. Ice Way's Ice Breaker
| +--- Am. Can. Ch. Polar Mist Saucy Minx
| +--- Am. Can. Ch. Polar Mist Ain't She Foxy
+--- Can. Ch. Vanderbilt's Breakin' Trail
| | +--- Am. Ch. Wolf River's Star
| | +--- Am. Ch. Wolf River's Falcon
| | | +--- Am. Ch. Seamist's Raven of Wolf River
| +--- Can. Ch. Wolf River's High As A Kite,ROM
| | +--- Am. Ch. Wolf River's Star
| +--- BIS Am. Ch. Wolf River's Terra
| +--- Am. Ch. Wolf River's Prairie
+--- Can.Am.Ch. Vanderbilt's True Lee
| | +--- Am. Ch. Tsiulikagta's Aput
| | +--- Am. Ch. Sparrow Hill's Taakowah
| | | +--- Nordic's Kaashi O'Sparrow Hill
| | +--- Am. Ch. Wolf River's Siberian Taiga
| | | | +--- Am. Ch. Sassillies Merlyn of Vicrian
| | | +--- Am. Ch. Wolf River's Ruffian CD
| | | +--- Wintercrest's River Wolf II Am.CD
| +--- Can. Ch. Wolf River's Vanderbilt Mesa,ROM
| | +--- Am. Ch. Sassillies Merlyn of Vicrian
| | +--- Am. Ch. Wolf River's Drumlin
| | +--- Wintercrest's River Wolf II Am.CD
| +--- Am. Ch. Wolf River's Fata Morgana
| | +--- Am. Ch. Sassillies Merlyn of Vicrian
| +--- Am. Ch. Seamist's Raven of Wolf River
| +--- Am. Ch. Seamist's Lavender and Lace
Ch. Linrosa's Moonlight Fling
| +--- BISS BIS Am. Ch. Risuko's Mister Moonlight
| +--- Am. Ch. Sanorka's Moonlight Gambler
| | +--- Am. Ch. Sanorka's Maiden Northwind
| +--- Am. Ch. South'n Mist Headin' For A Heartbreak
| | +--- Am. Ch. Christori's Splendid Sparkler
| | +--- White Magic's Margarita Mandy
| | +--- Am. Ch. Casablanca's Dash of Panache
| +--- BISS Am.Can. Ch. Echo's Just a Dreamer
| | | +--- Am. Ch. Wolf River's Drumlin
| | | +--- Am. Ch. Saratoga's Speed of Sound
| | | | +--- Am. Ch. Elmfield's Saratoga Sage
| | +--- Am. Ch. Artic Mist's Golden Sunrise
| | | +--- Am. Ch. Trailblazer's Circuit Breaker
| | +--- Am. Ch. Elmfield's Artic Mist
| | +--- Elmfield's Autumn Delight
+--- Am.Can.Ch. Vanderbilt's Moonlight Magic
| +--- Am. Ch. Wolf River's Falcon
| +--- Multi BIS Can.Am.Ch. Vanderbilt's Secretariat #1 A.S.
| | +--- Can. Ch. Shebaska's Vanderbilt Kipmetna
| +--- Can. Ch. Vanderbilt's Krash Of Thunder CD AAD
| | | +--- Am. Ch. Wolf River's Falcon
| | +--- Can. Ch. Wolf River's High As A Kite
| | +--- BIS Am. Ch. Wolf River's Terra
+--- Can. Ch. Vanderbilt's Rock Anthem
| +--- Am. Ch. Sparrow Hill's Taakowah
| +--- Am. Ch. Wolf River's Siberian Taiga
| | +--- Am. Ch. Wolf River's Ruffian CD
+--- Can. Ch. Wolf River's Vanderbilt Mesa
| +--- Am. Ch. Wolf River's Drumlin
+--- Am. Ch. Wolf River's Fata Morgana
+--- Am. Ch. Seamist's Raven of Wolf River

produced by The Breeder's Standard(tm) 2003 by Man's Best Friend Software --
1-800-746-9364