CH. LINROSA'S CAPTIVATING STAR, RN, RI


As a 6 week old puppy " Thompson" showed a lot of potential, but at 8 weeks of age he was stunning. I knew Thompson was special and he took a piece of my heart with him when he went to live with his new family.
With an outgoing personality, masculine head, balanced movement, and his beautiful Samoyed smile, Thompson is truly a captivating Samoyed and a shining star. Many thanks to his owners, Jen and Colin, for providing a wonderful home and for their interest and willingness to enter Thompson in a variety of events and competitions so he is stimulated and challenged. It has been wonderful watching to see what he can accomplish. Thompson certainly has a "zest for life"!!
Thank you to Gracie Wilson, Thompson's handler, for taking Thompson under her wing, training him for the show ring and then quickly piloting him to his Canadian championship.
After competing in the conformation ring, Thompson began working with Jessica Tighe. Jessica quickly developed a special relationship with Thompson and started training him for Rally competitions. So far they have completed Rally Novice, Rally Intermediate titles and have two legs toward Thompson's Rally Advanced title. In 2019, he was ranked #2 CKC Rally dog. Jessica has also introduced Thompson to agility and is teaching Thompson tricks, one of which is a handstand (see picture on the left). Wow! They are continuing to work together so you just never know what event the two of them will attend next.
A special thank you, Jessica, for all your efforts, creativity and ensuring Thompson is having fun while learning. The two of you are quite the team to watch and sure know how to have fun!
******************************************
THOMPSON'S SHOW CAREER
May 19, 2018 - Tantramar Kennel Club.
Thompson wins BOS in Sweeps at the 2018 Samoyed Association of Canada National Specialty under judge Diamond Muse. Handled by: Gracie Wilson
May 12 & 13, 2018 - Dartmouth, NS Kennel Club
New Champion! Thompson wins WD for 1 point, under judge Pamela Bruce and BW for 2 points under judge Janet Lobb to finish his championship. Handled by: Gracie Wilson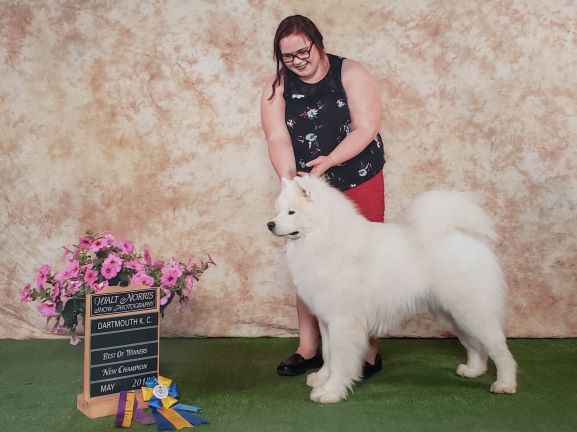 Best of Winners
Judge: Janet Lobb Handler: Gracie Wilson
March 24 & 25, 2018- Truro, NS Cobequid Kennel Club
Thompson wins 2 more points, BW, under breeder-judge Barbara Heal and
1 point, WD, under judge Karl Erik Johannsson. Handled by: Gracie Wilson
February 24 & 25, 2018- Halifax, NS Kennel Club
Under judge Wendy Schira, Thompson wins WD for 1 point, and 2 points for BW under judge David Gilmour. Handled by: Gracie Wilson
November 18 & 19, 2017- Moncton, NB Kennel Club
Thompson's first shows! Under judge Cheryl Patterson wins BW for 1 point and another 1 point winning BW under judge Lucie Paradise. Handled: by: Gracie Wilson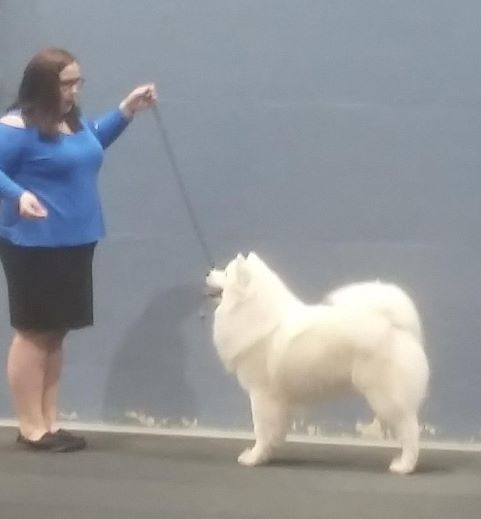 Thompson's first show, Moncton, NB
Handler: Gracie Wilson
Photo: Bobbi Jo Sears
THOMPSON'S PHOTOS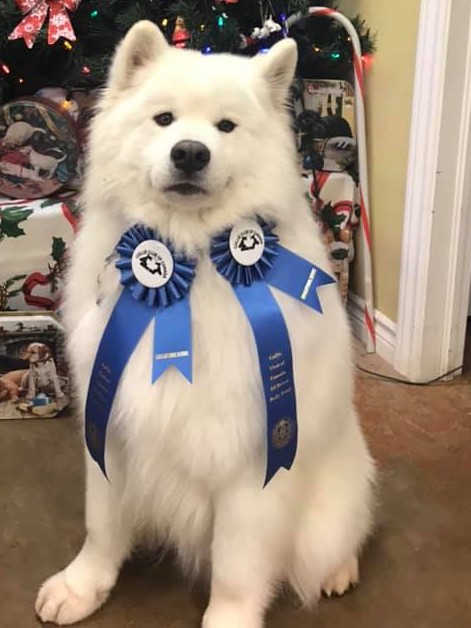 Thompson wearing his two Rally Advanced ribbons. (December 2019)
Trainer and handler: Jessica Tighe
Photo: Jessica Tighe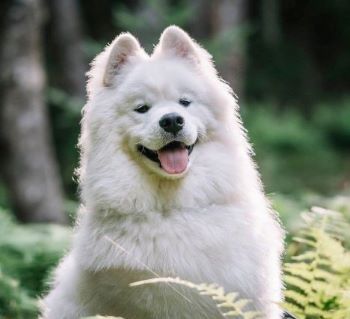 Photo: Danique Henderson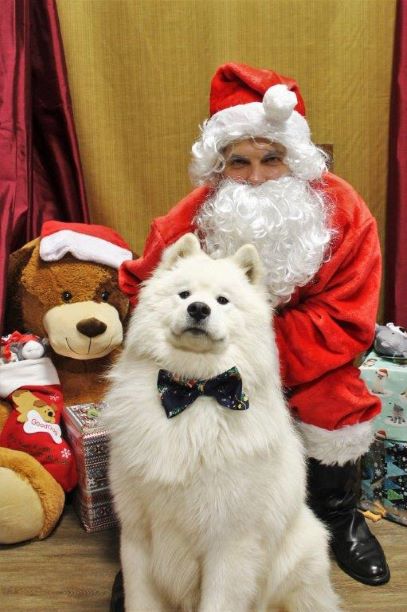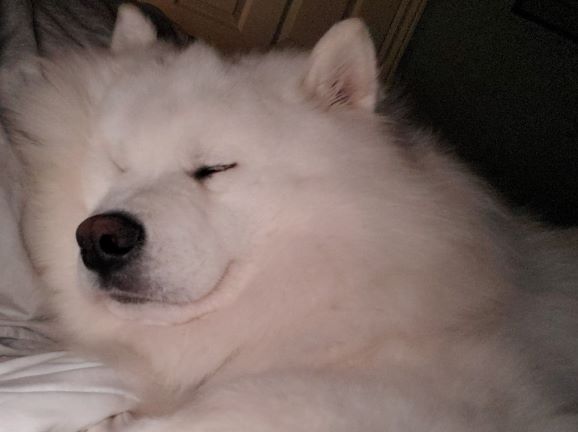 ZZZZZZ....