Over the years, I have had the pleasure of meeting and working with many wonderful owners. I enjoy keeping in touch and invite you to submit your Linrosa Samoyed stories and pictures. Thank you to everyone who has already participated.
If you would like to add to the Testimonials page, please send your comments and pictures to linda.roulston@gmail.com
***********************
"I would highly recommend Linrosa Samoyeds to anyone interested in this beautiful breed. From the very beginning, we knew that this was a breeder we wanted to work with. We live several provinces away, but Linda made the process of purchasing a Samoyed so easy and enjoyable. She was always accessible and answered any questions we had right away. She sent weekly updates with pictures, and all the information we needed to get puppy-ready. Even after our puppy arrived, she was always available for questions and advice. She truly is a wonderful and caring breeder!"
Sinead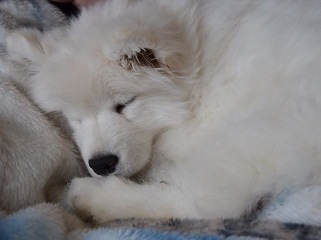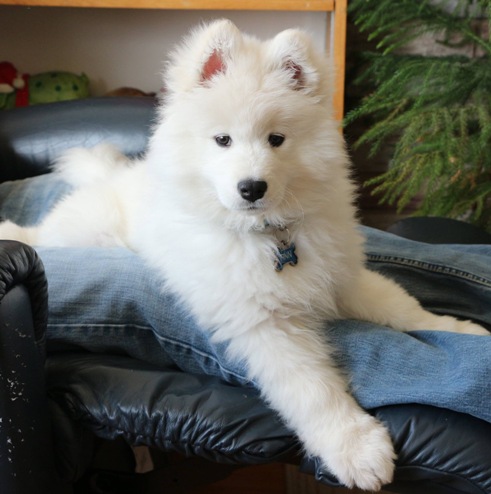 ***********************
Hi Linda
I have to say, I am amazed by this puppy, he is absolutely awesome !!! Friends, family, and customers drop in one after the other and Smurf just sits there with his tail wagging, no barking, no drama. He lets everyone come to pet him, no jumping... it's just incredible, and everyone comments on this. I'm one happy and proud papa Smurf. Now, I'm sure in time Smurf's going to fire up and get all wound tight, but for the moment, he's one mellow dude and I love him to bits.
Everything is going well and I could not be happier. Thank you SO MUCH!!
Gaston
UPDATE from Gaston about the importance of a dog dryer.
Before getting a Samoyed I did my research and was fully aware of what was to come in terms of hair and grooming so a dog dryer seemed like a good idea even though it was expensive. Luckily I got the chance to see first hand how convenient a dog dryer really was and bought one !!! At 4.5 months old Smurf is being blown every day, whether he needs it or not, in order to get him used to it and not fuss. I have to say, this dryer is worth its weight in gold ! If it were to break today, I'd buy another one instantly !

On rainy days Smurf gets wet, so I use towels to soak up the bulk of the water, but he still remains wet and leaves soggy puddles all over the house. However, three minutes on the grooming table with a blower and he's dry, clean and looking like a million bucks.

I also use the dryer on Smurf, as well as myself, after walking thru the forest and getting debris in his coat. It is great to get dog hair off your clothes, dust off the computer fans, blow out dust from air filters ( and the vacuum canister ! ) just to mention a few other uses. I keep finding more uses for it every day ! I have blown dry the soles of my shoes in seconds instead of leaving wet footprints on the floor.. etc etc etc.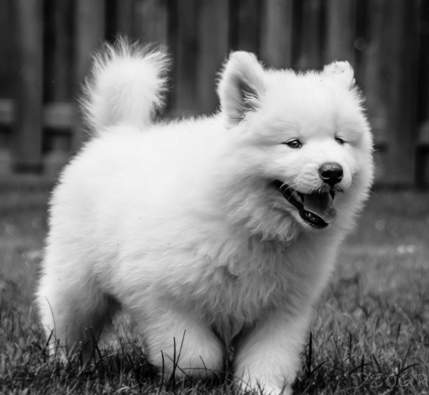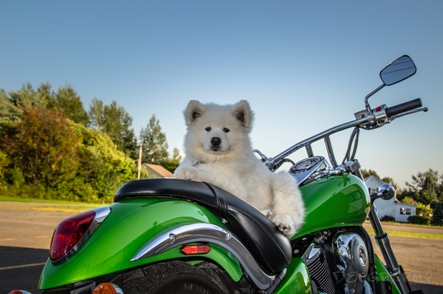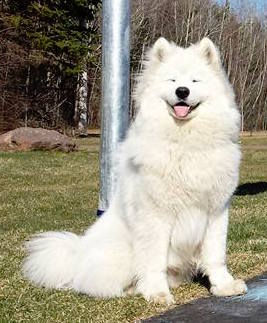 Smurf 9 mths
***********************
I lost my Samoyed, Kalen, after 14 years together. After the grief had lessened, I began my search and found Linrosa Samoyeds. Linda was immediately so kind and responsive. We spoke on the phone soon after making contact and ended up talking for over an hour about past and present dogs, the process she follows when placing a pup as well as my experience with the breed. I was over the moon to receive the news that a male puppy would be coming to me in late August – a June puppy, just like Kalen.
Linda was always in touch with me, sending weekly/bi weekly updates as well as videos of the litter growing and playing. Unlike some breeders, Linda chooses the matchups of owner/puppy during her last week with them so I had no idea which male puppy would be mine. Once the evaluation period arrived, Linda asked a few more questions, and it was decided that the black ribboned puppy (Onyx, which I renamed Stark) would be mine. The plan was for my pup to be an eventual therapy dog, but also be able to join in our active lifestyle of hiking, lots of walks and being around the many dogs and people in our lives. Onyx seemed to be a perfect mix of brave and confident, but also calm and reserved – the match was perfect and Stark is just that, a perfect blend of active and relaxed.
Stark was an absolutely wonderful puppy. He already had the basics of housetraining down, and already knew sit. I can count on one hand how many accidents we had in the early days – much of which I owe to Linda's early training with all of the pups as well as our constant consistency when it came to potty training – he caught on in no time!
Stark excelled in puppy classes and the first level of obedience. We are currently enrolled in a mastery class and Stark is also accompanying me to work where I work closely with children with special needs. Children and families approach us often when they see Stark and he is always quiet, calm and gentle – especially with toddlers. We are already preparing for the therapy dog certification and continuing to work on higher levels of obedience. We did LOTS of socialization early on, and Stark's laid back and social Samoyed personality always shines through and he is wonderful with other dogs.
I have no doubt, that Linda's excellent breeding and impeccable choice in pairing and temperament as well as her wonderful socialization and work she puts into each and every pup gave Stark the building blocks to be the absolutely amazing dog that he is now. Linda and I have, what I consider to be, a wonderful relationship and she is always there to lend her advice and expertise. She is also a constant source of encouragement and congratulations when I share Stark's latest achievement with her, or the latest photo of him freshly groomed (all of which I do on my own). I will not hesitate for one moment when the time comes to add another Samoyed to the family – to head straight in Linda's direction.
Alyssa
| | |
| --- | --- |
| Stark 8wks | Stark 12wks |
| Stark 6mths | Stark 10mths |
Alyssa`s comments on buying a dog dryer and doing her own grooming.
I chose early on to handle all of Stark's future grooming myself. Under Linda's guidance, I purchased a Metro Air Force (4HP) dog dryer. Besides Stark himself, this is THE best dog-related purchase I could have made. During the Spring, it is impossible to keep Stark white for longer than a week. With the dryer, it is so easy to wash the bottom of his legs and belly, and have the ability to dry him thoroughly and quickly in no time. Also, for regular dry grooming, the dryer is wonderful for a quick "once over" to loosen up his fur, help some of the loose hair come out as well as any debris that needs some extra brushing to remove. The dryer is also extremely useful to inspect Stark's skin and body for any scratches or irritations. Purchasing the dryer not only saved me needing to pay someone to groom Stark or spend hours and hours with a human hairdryer – but it gives me a great sense of pride that if Stark needs to be bathed, it is a task I can complete all on my own. When people say "he is so white and so soft!", it's wonderful to know that I can make Stark feel great and look THAT handsome.
***********************
Ally's comments about buying a dog dryer;
After getting our Samoyed we quickly realized how important investing in the right grooming tools would be for keeping his coat beautiful. Luckily we purchased the Metro Commander Dryer from Ren's Pet Depot. We purchased this dryer a few months after getting Loki. The dryer is absolutely fantastic. It's light, easy to use and not bulky. We just place it on the floor close to our grooming table and the hose reaches perfectly, and the nozzle accessories that come with it really help us to focus on specific areas that require attention.
I always used to find that after giving Loki a good brushing there would still be tuffs of fur that was loosened during the brushing that would scatter around my house. Now since I have the dryer we just use the dryer in our grooming area after brushing and it gets those tuffs of fur out so they are not around my house.
In Newfoundland the weather is very unpredictable and wet weather makes for a dirty Samoyed after walks. I use the dryer after walks to blow dirt and dry the fur. Once the fur is dry we brush the remaining dirt out and he is just as clean as he was before we left for our walk !
When it comes to bath time, drying Loki with towels and a hair dryer was just time consuming and tedious. With the Metro Commander drying time has been cut in half. Once his coat is fully dry he looks so fresh and fluffy! I did not have the same outcome as when we used a regular hair dryer or towel dried him.
All in all the Metro Commander was an amazing purchase, grooming costs are not cheap and this definitely help us maintain Loki's beautiful coat. I would highly recommend this dryer to anyone who has a Samoyed.
Ally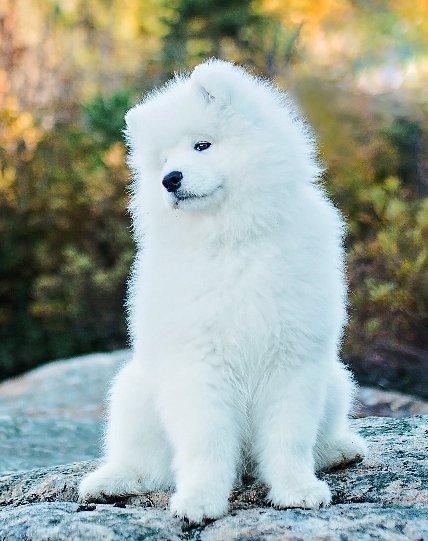 Loki (photo: Aaimee Gillam Photography)
***********************
We highly recommend Linrosa Samoyeds for your new addition to your family. We contacted a couple of breeders and Linda was the most thorough during the interview process, we felt she took her dogs seriously and could be relied upon. We have not been disappointed and the adoption process went smoothly. We pestered her for pictures during the two-month wait between birth and adoption and she kindly sent us regular updates of the litter and mama. Linda remains available even after the puppy has come home with us.
Indiana
is a playful energetic little fellow who loves to make friends with everyone and smile his way around life.
Audrey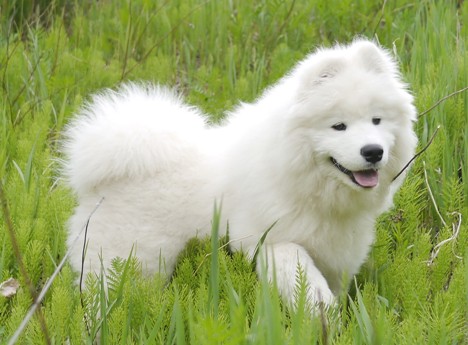 Hi Linda,

I just wanted to let you know how Marius is doing. The last five years have been great! Marius has turned into one of the most friendly and outgoing dogs around. Every time we are out for a walk, everyone always comes up to us and wants to pat him and take his picture. He has become quite the celebrity here in the Miramichi. Of course, Marius thanks them by giving them lots of kisses. Just recently Marius became a big brother. The love between these two is crazy. Every time Lincoln cries, Marius is always right there making sure she is okay. He is so gentle around her. It is nice to know that Lincoln will have a friend for life. My decision to buy a Samoyed was definitely the right choice. He fits in perfect with our family and we love him just as much as he loves us. Hopefully soon we will add another Samoyed to our family.

Kari and Rob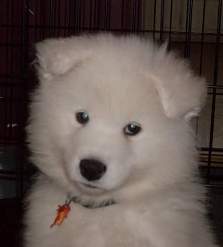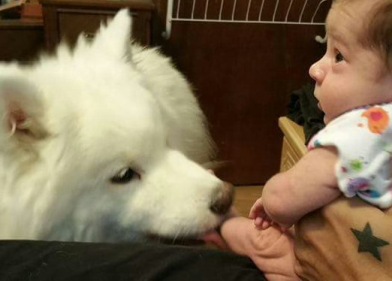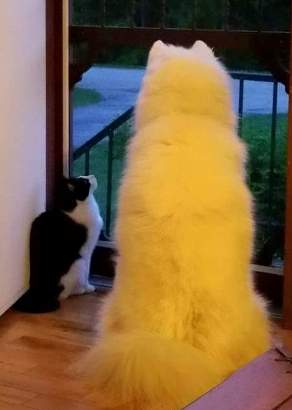 ***********************
Hi Linda!

I'm so glad that our previous dog was half Samoyed and started our love affair with the breed! We couldn't have asked for a better breeder and friend when looking for a little Samoyed puppy, while still grieving our wonderful girl's departure so many years ago. You asked the tough questions, made us aware of many things, educated us on the breed, and impressed us beyond our expectations on how much you care about your dogs. They are your family members and are so well grounded by the time they go to their new homes. You more than take your time to try and perfectly match people personalities to puppy personalities so it's an easy transition.

We can't thank you enough for our two sweet "kids"! I can't believe it's been over 12 years ago since little Cheemo stole our hearts and over 10 years since his little sister, Shiya walked through the door and told Cheemo the way life was going to be, lol. They are the most amazing sweeties and so 'go with the flow' we've ever seen. They love everyone, including other animals! As long as they get to go with us, they don't mind long road trips, not one complaint from them. There's not one day that I am not grateful for them and hug them tightly.

Linda, thank-you so much for allowing us to take your first precious little guy, Cheemo! You allowed us the great pride of seeing him get his Canadian Championship and show us how talented he is as well as how much he loves to show off when he has an audience. Shiya is our little teddy bear, loves to snuggle.

I can't imagine life without these two, although they are in their golden years, their sparkling personalities are still keeping us on our toes and laughing each day.

Cheers,
Mary and Brad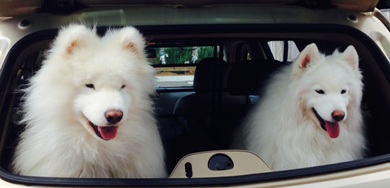 ***********************
Linda,
Just wanted to let you know that Barney has been great. Although sometimes stubborn, energetic and vocal at times he has been nothing but a great companion and family member. He is extremely good with other dogs, kids, and people in general. I can't say enough great things about this breed, and you as a breeder. Your commitment to these dogs was really evident to see through this whole process. You have always taken the time to answer any questions that I might have, and have really shown an incredible knowledge when it comes to this breed. I can't thank you enough for all that you have done for myself and Barney. I will continue to stay in touch. Thanks so much!
Joel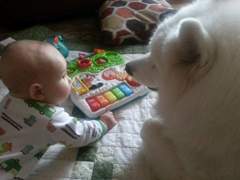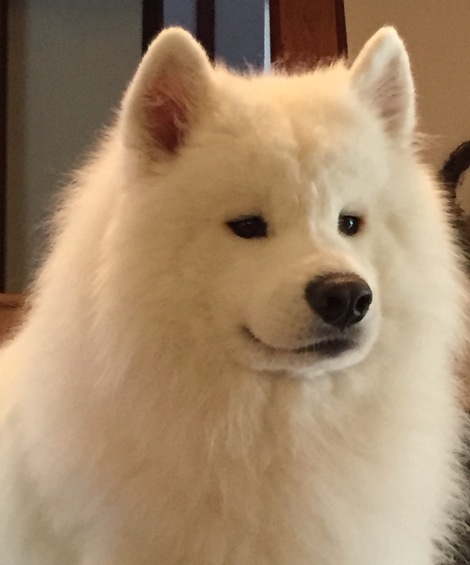 May 2015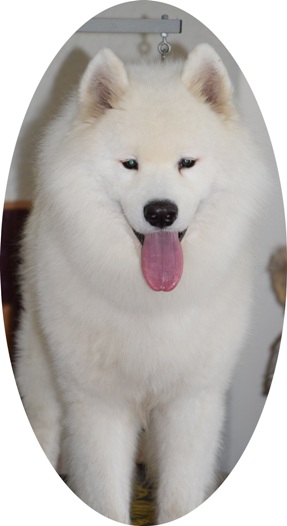 After a grooming

Linda
I just wanted to tell you how much we love Ghost. He's the sweetest dog I've ever laid eyes on! I am so pleased with how my first Samoyed experience has turned out. He has become such an important member of the family. As you can see from the picture, he loves rolling in the mud and digging holes. He also enjoys licking my cats' faces, and playing dead when it's time to get his coat brushed <lol>! He's very smart, fantastic with children, sometimes acts silly and loves to have his ears scratched. I have never had a worry about him being around anyone, as there isn't an aggressive bone in his body! I can't tell you enough how happy I am with him! This first year has flown by, I can't believe he's already one! Thank you again for such a wonderful experience. I would highly recommend you to anyone. You're so knowledgeable, and even now, you are still a fantastic support system. I've attached a few pictures of Ghost as well, one at 9 weeks and the other one is more recent.
Haley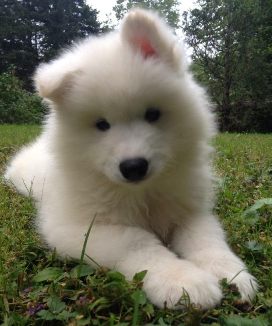 ***********************
Hi Linda,
Well, Dexter is 6 this year and it's hard to believe it. He doesn't act like a 6 year old. There's nothing senior about him. Here are just a few of the reasons we all love Dexter and truly appreciate you sending him my way! He's so beautiful - The face, oh the face! The big brown eyes, the Sammy smile that is always there, and the always wagging tail show you just how friendly and happy he is. He's always ready to go - for a walk, a run, a ride, even (gasp) a swim - with just about anyone. He loves kids (like more than he loves me sometimes), other dogs, cats..... I swear, there isn't a mean bone in this dog's body.
He's also the reason I meet so many interesting people. He "cuts a fine figure" walking down the street and people like to stop us with a "can I pet him?!?". He's always happy to oblige. I like to say that he's the energizer bunny - always going, but he's also pretty easy going. We just recently moved. That would stress a lot of dogs out. Not Dexter. He took it all in, settled in and acted like he'd been living here forever! Now that's a great personality!
You gave me a beautiful, healthy, happy fluffball of joy and I'd take another in a heart beat!
Thanks,
Jen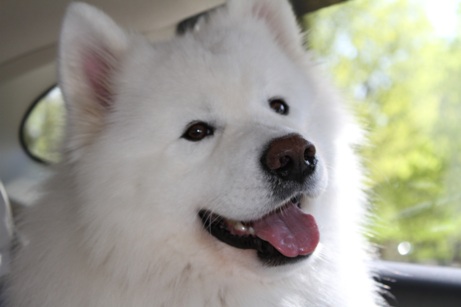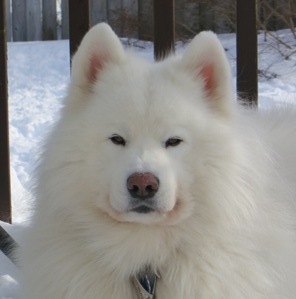 ***********************
Hi Linda
Maya is, for us, our little daughter. People that see her would say, she's a little fur ball of Joy. She loves her daily walk followed up with a trip to the dog park, where she plays and runs with all her friends. She is the most sociable dog ever, loves people and children. She loves cuddling in bed in the morning and at bedtime, but she has an independent personality during the day. We only have good comments from people who see her, our vet and groomer always comment about how sweet and beautiful she is. Her fur is relatively easy to keep clean and white with an air blower and a good brushing once a week. We have used the air blower since she was 10 weeks old and now she jumps on the table and waits for her "Spa Treatment".
She's part of our family and it wouldn't be the same without her. After a short period of time she became the boss of the house, even when it comes to her Big Brother Victor (Akita).
Linda, thank you for guiding us and giving us the right information about how to take good care of Maya, you were simply excellent. There is no doubt in our mind that we will get other Samoyed from you in the future,
Thank you so much for the gift of being proud parents of our sweet little girl.

Caroline and Brian, N.B.
***********************
Jennifer - Maine, US
I highly recommend Linda, she is the best Samoyed breeder I've dealt with in twenty plus years of sharing my home and friendship with this lovely breed. Linda shares information on training and best care practices before, when and after you bring home your new puppy. She shares pictures and stories of the litters' growth and development which makes the experience of bringing home one of her puppies a personal and interesting one. The pedigrees of her litters include many Champions and group winners. I'm looking forward to bringing another one of her puppies into my home in a year or so. I tell anyone who is looking to get a well bred, smart, healthy puppy, that has been raised in the home, that Linda is the person to go to. All her puppies come with a health check up, Veterinarian booklet and are up to date on immunizations. She advises the prospective owners on the regulations and immunizations needed for crossing the US border. Linda is a wealth of information and is always there to offer advice when you need it. It is easy to see she cares how all her puppies are doing as they settle in with their new families, grow and learn how to be a wonderful companion.
***********************
Hi Linda
Five years ago we had to part with our 12 year old Samoyed and our family was heart broken. After some time our family was ready to search for another Samoyed. We found your website. It was a month or two back and forth on your web site before I first made contact with you, Linda, to enquire about any upcoming litters. From the very start we were kept in the loop about the breeding process throughout the pregnancy and the birth of the litter. You invited us to visit and later helped us pick our beautiful Sasha. It's been over three years now and I am thankful everyday that I contacted you about a puppy. Sasha has fit into our family like a glove and the contact we have had has been wonderful. I love it that I can email you with questions and receive advice. I love sharing the special and goofy moments in Sasha's life. We are truly thankful and grateful to have Sasha as part of our family.

Wanda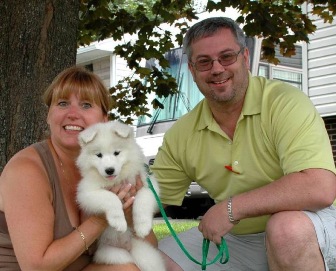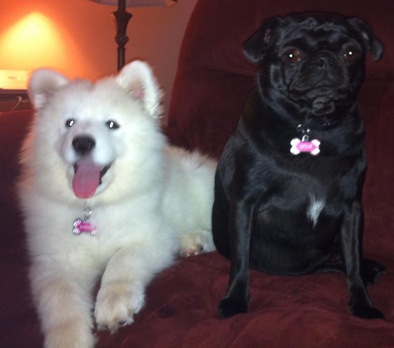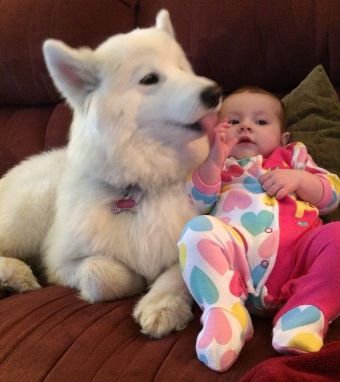 ***********************

Hi Linda,
Wanted to send you some pictures of Cloud, who is a wonderful, calm and well mannered puppy that is learning very quickly to get along with her new furry sisters and the rest of the family. She is getting A LOT of attention from the neighborhood and grabs the attention everywhere we go. She is very good on a leash when we go for walks. We thank you very much for bringing such joy to our lives.
Fern, Campbellton NB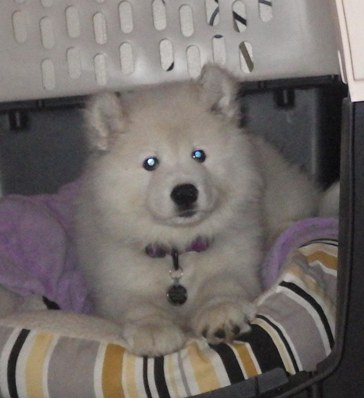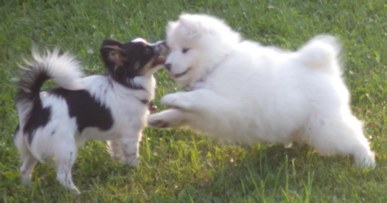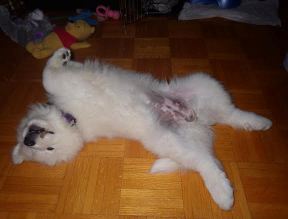 ***********************
Bonnie, Nfld.
I am the proud owner of two Linrosa Samoyeds. Jasper and Crunchie are both magnificent boys and are as beautiful on the inside as they are out. Their temperament is amazing with children and other small animals (I have 5 cats) who are best friends with these boys and often clean each other's ears and sleep together. I can't imagine owning another breed. They came from a fantastic breeder, who has ALWAYS been there when I've needed advice or had questions regarding the breed. That support is priceless!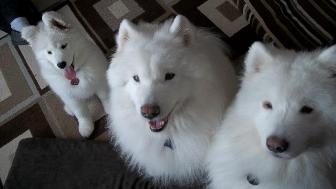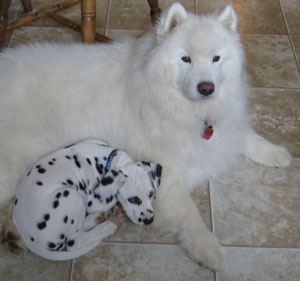 ***********************
Hi Linda,
Really enjoying our time with Lily. She is fitting and settling in better every day and the bonds of love and trust are growing. We are so glad you chose us for one of your puppies. Thank you!! I take her to the nursing home to visit my great Aunt who took care of our other dogs when we worked. Lily is very well behaved and they all light up when they see her. It's like she can sense that she has to be easy with them. She enjoys her crate now, knows left paw and right paw, sit and we are working on stay. She also loves riding in the car.
Katrina
***********************
Joyce and John, Maine US
Thanks so much for everything! We are so happy with Diva and will always be thankful we found you.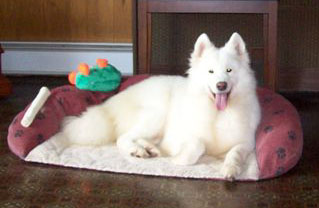 ***********************
Mary Risman, Ontario
In 2003, I received the most beautiful puppy Samoyed and named her Holly. She is so full of life. Holly is kind, compassionate, beautiful, docile and so loving. Everything I had asked for. She is now 11years old and still loves life and everything around her. If thinking of getting a Samoyed I highly recommend Linda as your breeder of choice, you will not be sorry.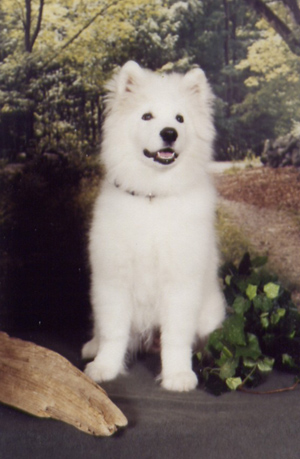 ***********************
Tammy, NB
Fling is an amazing dog! She listens to Mom really well and stays right with her. If Mom is not up by a certain time, she begins howling. It's so cute, and now she's starting it with me. Fling is also getting along really well with Kayla.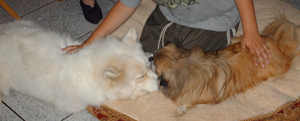 ***********************
Hi Linda
It is almost 3 years that I have Bella now. I am so glad I found you. You have given me the best dog I have ever had. She is such a great dog , great with my 2 boys and she is also so good with my 2 cats. She is my best friend and I would be lost without her. Any time I have a question about Samoyeds you are always there to answer, and in such great detail. You have such knowledge of this breed, it is amazing. I would highly recommend you to anyone who is looking to have a Samoyed join their family. Even now almost 3 years later, you are interested in how Bella is doing. :)
Wanda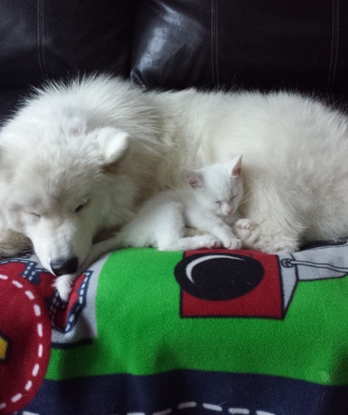 Click here to go to page 2 of Testimonials