***********************
Hi Linda,
I am so happy that I found your website when we were looking for a Samoyed puppy. You have given us the most amazing dog. We love him so much! He is so friendly and well behaved, we can take him anywhere, and we do. He spent the summer on the Bras d'or lakes and loves to swim. He likes to hang out in the dory and has been photographed numerous times.
Linda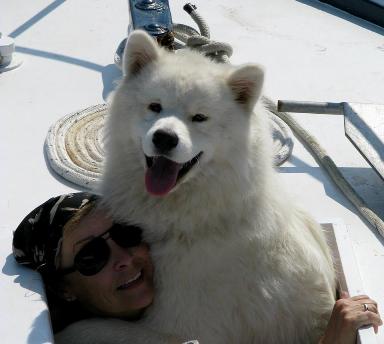 ***********************
Hi Linda

One of the best things I have ever done is contact Linrosa Samoyeds in search of a new Samoyed puppy to love. From the beginning, the care that Linda has for her dogs is evident. She ensures that her puppies are going to loving and stable homes. I had the opportunity to discuss my experiences with Samoyeds, ask questions - which I still continue to do from time to time ;) - and even meet a couple of her dogs that were in my area. The communication has always been exceptional, and much appreciated. The best part is the joy that Riley has brought into our lives. He is a 55 lb lap dog, and it's great. He is extremely gentle by nature - typical sammy - and is developing a special bond with my 2-year old nephew. As Riley is just 16 months, they're growing up together. Riley has a natural tolerance for fur tugs and squeals that I don't think I could have ever taught him, though he gets lots of hugs and cuddles as well.
Riley is the perfect example of the typical Samoyed. He's got a stubborn streak a mile wide, and is too smart for his own good. We call him Houdini at times, as he continues to figure out escape routes from his crate. He's extremely loving, loves his walks, and can't get enough back scratches.
Thanks
Melissa, Nfld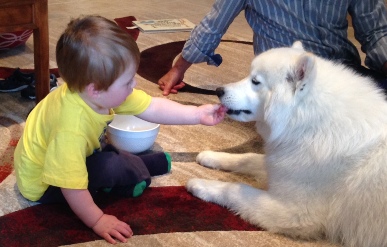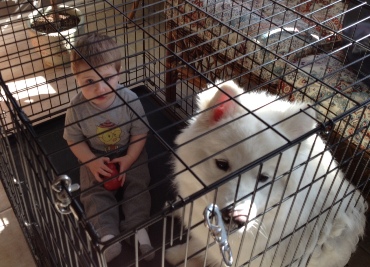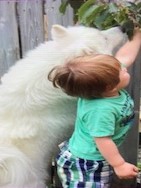 ***********************
Hi Linda,
I am so glad Toby is a part of our family and that you chose us as owners!
Toby is 5 months old now and very well behaved. I have a 2 year old daughter that loves him as much as he loves her. He is the perfect family dog!
He does well getting groomed and knows most commands. Everywhere we go, Toby gets the nicest compliments!

For anyone wanting to get a Samoyed, Linda is by far the best breeder I've ever met. She is so knowledgeable and is always in contact by email in case you have any questions. I feel very confident in taking care of Toby with the information I've received from Linda.

Kaitryn, NB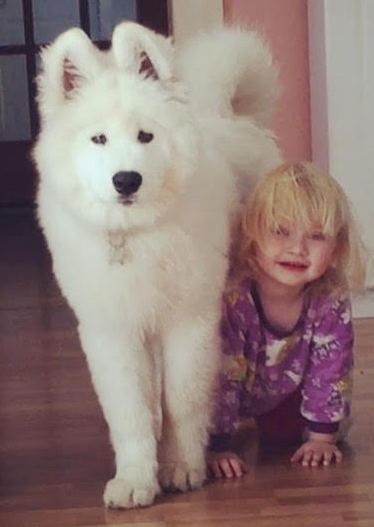 ***********************
Hi Linda
2005
Amber is well behaved, follows instructions when on the leash, is never destructive, digs only in approved outdoor areas (well, there have been a couple of mistakes), rides well in the car, is never aggressive to other dogs, children or guests and is a joy to have around. She is my buddy and there is hardly anything we don't do together. Amber is unique since she always stays nearby, never chases deer or cattle and understands most voice commands. Naturally, she is great with our grandchildren.
2015
Linda, it's been two days now and we can still barely face it. Amber is gone. She had a growth and then a complication of the illness was pneumonia which made Amber very ill with no hope of recovery. Our hearts are shattered. I hurts greatly and is quiet and lonely now. We can't imagine her with anyone but us; we just fit. She was happy, we were happy.
We have so many memories and will NEVER forget her. We wanted to thank you again for allowing us the privilege of caring for her. We know you're particular in placement and we were blessed by her presence in our lives.
David, US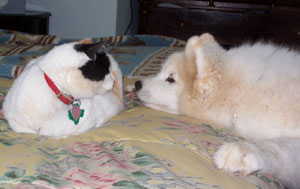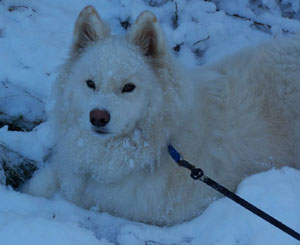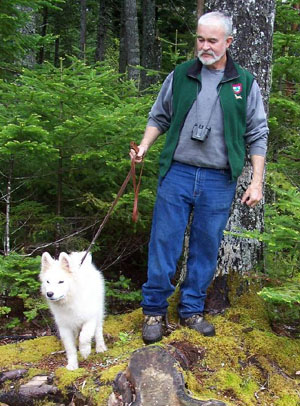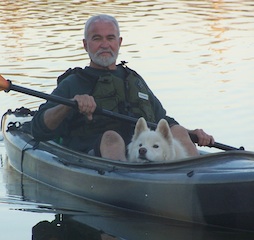 ***********************